Spoiler Alert!
This article contains details about plotlines described in the anime.
Do not proceed unless you want to be spoiled.
Love Live! Sunshine!! (ラブライブ! サンシャイン!!, Rabu Raibu! Sanshain!!) is an anime television series, produced by anime company Sunrise in association with the music label company Lantis, and is directed by Sakai Kazuo. It began airing in Japan on July 2, 2016.
Staff
Japanese
Original Story: Yatate Hajime
Original Plan: Kimino Sakurako
Director: Sakai Kazuo
Series Organization: Hanada Jukki
Character Design: Murota Yuuhei
Design Works: Kawake Maki
Set Design: Takahashi Takeshi
Art Director: Higashi Junichi
Color Planning: Yokoyama Sayoko
CG Director: Kurosaki Gou
Director of Photography: Sugiyama Daiki
Editor: Imai Daisuke
Sound Director: Nagasaki Yukio
Music: Kato Tatsuya
Music Production: Lantis
Animation Production: SUNRISE Inc.
Presented by:

2016 PROJECT Lovelive! Sunshine!!
SUNRISE Inc.
BANDAI VISUAL CO., LTD.
Lantis Co.,Ltd.
Bushiroad Inc.
KADOKAWA CORPORATION ASCII MEDIA WORKS
English
Japanese
English
Supporting Characters
Japanese
Asumi Kana as Takami Shima
Itou Kanae as Takami Mito
Mugiho Anna as Shiitake
Matsuda Risae as Yoshimi
Kanemoto Hisako as Itsuki
Serizawa Yuu as Mutsu
Mizuki Nana as Riko's Mother
Tano Asami as Kazuno Sarah
Satou Hinata as Kazuno Leah
Kugimiya Rie as Chika's Mother
English
Colleen Clinkenbeard as Takami Shima
Monica Rial as Takami Mito
Tyler Walker as Shiitake
Unknown as Yoshimi
Madeleine Morris as Itsuki
Unknown as Mutsu
Unknown as Riko's Mother
Trina Nishimura as Kazuno Sarah
Amber Lee Connors as Kazuno Leah
Jessica Cavanagh as Chika's Mother
Videos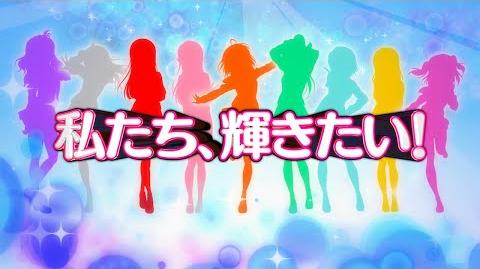 ENG Subbed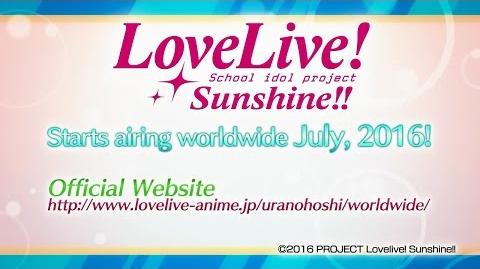 (30 seconds)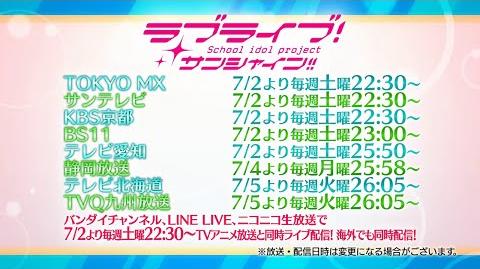 (15 seconds)
Theme Songs
Episodes
No.
Title
Air Date
01
"I Want to Shine!!"
(

輝きたい!!

"Kagayakitai!!"

)
July 2, 2016
Having been inspired by the school idol group μ's, Takami Chika, a second-year student at Uranohoshi Girls' High School, tries to start her own School Idol Club. As Chika and her friend Watanabe You try to recruit members, she faces resistance from the student council president, Kurosawa Dia, who states she will not approve such a club. Later that day, Chika comes across a girl from Tokyo, explaining to her how she became inspired by μ's, who showed her how normal people could shine. Inspired by her story, the girl introduces herself as Sakurauchi Riko, a transfer student from Otonokizaka High School, the same school μ's attended. After You decides to become the first new member of the School Idol Club, Riko transfers into Chika's class. In high hopes of gaining another member for her club, Chika asks Riko to join, only to have her invitation declined.
02
"Catch the Transfer Student!"
(

転校生をつかまえろ!

"Tenkousei o Tsukamaero!"

)
July 9, 2016
Chika keeps trying to get Riko to join the School Idol Club, only to get rejected every time, while Dia shows a surprising amount of knowledge about μ's. Hearing about Riko's struggles with piano playing, Chika and You take her scuba diving, where she learns to hear the sounds of the ocean. The next day, Riko decides to help Chika compose their music, encouraging her to write lyrics based on her love of idols. After listening to one of μ's' songs, Riko decides to take up Chika's offer and join her club.
03
"First Step"
(

ファーストステップ

"Faasuto Suteppu"

)
July 16, 2016
Ohara Mari, a third year student and the newly assigned chairwoman of Uranohoshi Girls' High School, states that if the girls can fill up the school gym with audience members, she will approve their School Idol Club. However, if they fail to get a full house, they must disband. Realizing that there aren't enough students in their school to fill the gym, the girls are forced to search outside the school to advertise their concert. While trying to come up with a name for their group, the girls stumble upon the name "Aqours" anonymously written on the beach and decided to use it. On the day of the concert, only a handful of students show up, but the girls perform their hearts out nonetheless. Just as a power outage occurs and all hope seems lost, a whole crowd of people, who heard about the concert through Chika's sister and friends, arrive at the gym, while Dia secretly hooks up a backup generator, allowing the concert to continue.
04
"Two Girls' Feelings"
(

ふたりのキモチ

"Futari no Kimochi"

)
July 23, 2016
With the School Idol Club approved, Chika and the others begin cleaning up their new club room. Meanwhile, Ruby mentions to her friend Kunikida Hanamaru that Dia used to like school idols but suddenly came to hate them, leading her to feel like she shouldn't like them either. After looking up school idols herself, Hanamaru encourages Ruby to join the School Idol Club on a trial basis while keeping it a secret from Dia. Later on, they find themselves struggling to find a place they can practice in due to the lack of space in their new club room. The girls then decide to use the school's rooftop for rehearsals. As the girls practice running up some stairs, Hanamaru struggles to catch up with everyone but encourages Ruby to focus on what she wants instead of always worrying about others. Afterwards, Hanamaru convinces Dia to listen to Ruby as she states her true wishes. As Ruby joins the club the next day, she notices Hanamaru's wish to also become a school idol and convinces her to join as well.
05
"Yohane Descends"
(

ヨハネ堕天

"Yohane Daten"

)
July 30, 2016
As Aqours try to figure out how to improve their idol ranking, Tsushima Yoshiko, who had been absent from school since the first day, struggled to put her chuunibyou habits of pretending she is a "fallen angel" behind her. After watching one of Yoshiko's videos as her persona, "Yohane", Chika decided to invite Yoshiko to join Aqours and have everyone act like Yohane's little demons to increase their appeal. Although this identity gave them a boost in rankings, Dia promptly reminded them that it is only a temporary gain, which led Yoshiko to blame herself. Believing Yoshiko truly loved her persona, Chika invited her to join Aqours once again, encouraging her to love herself for who she is.
06
"Let's Make a PV"
(

PVを作ろう

"PV o Tsukurou"

)
August 6, 2016
Mari informs Dia about plans to close Uranohoshi and merge with another high school due to lack of applicants. When Ruby tells the other about it, Chika decides to follow μ's' example and try to save their school. She decides to make a promotional video to attract applicants, but struggles to find some actual good things to say about their town. As Chika becomes determined to figure out an answer without relying on Mari, she learns that Dia used to love idols, but is stopped from inquiring further by Ruby. Later, as girls from all over town gather to clean up the beach, Riko inspires Chika to get their help in filming their promo video.
07
"TOKYO"
(

"TOKYO"

)
August 13, 2016
With their video placing them in the top 100 school idol groups, Aqours are invited to perform at an event in Tokyo, prompting some concern from Dia. Upon arriving in Tokyo, the girls each check out the specialist shops before coming across the shrine that μ's used to practice near, where they meet another pair of girls attending the event. Later that night, Riko tells Chika about her experiences at Otonokizaka and the expectations she was up against. The next morning, the girls hear about entries opening for the next Love Live before heading over to the event, where the two girls they met before, Sarah and Leah Kazuno, are also competing as the unit Saint Snow.
08
"Isn't it Frustrating?"
(

くやしくないの?

"Kuyashikunai no?"

)
August 20, 2016
After Aqours' performance in Tokyo, they are shocked at the results. They had come in 30th place out of 30 groups, receiving 0 audience votes to enter into Love Live. Feeling dejected, they return home. Dia is waiting for them and tells a story about how Kanan, Mari, and herself initially formed their own school idol group and made the same trip to Tokyo, but they were overwhelmed by the large crowd and unable to sing on stage. Meanwhile, Mari meets with Kanan with the hopes of having her be a school idol again, but Kanan refuses. This leaves Mari in tears. The next morning, Riko finds Chika at the beach in despair and comforts her. Riko lets her know that its okay for her to show her true emotions and that Aqours will continue as School Idols, not because of Chika, but because they love School Idols.
09
"Young DREAMER"
(

未熟DREAMER

"Mijuku DREAMER"

)
August 27, 2016
As the girls decide to do something for the upcoming culture festival, Chika becomes curious as to why Kanan quit being a idol. While following Kanan on her morning run, the girls overhear an awkward conversation between her and Mari. The next day, as Kanan returns to school, Chika becomes sick of everyone arguing and tries to confront her, Dia, and Mari about what really happened. While Kanan remains defiant, Dia reveals to the others that during the Tokyo event, Kanan chose not to sing on purpose because she didn't want an injury Mari had to get worse by performing, further revealing that she quit being an idol to stop Mari squandering so many possibilities for her future. Hearing about all of this, Mari properly confronts Kanan and the two finally manage to make up with each other, after which both of them become members of Aqours alongside Dia, who is revealed to be the one who came up with the group's name.
10
"We've Got Stewshine"
(

シャイ煮はじめました

"Shai-ni Hajimemashita"

)
September 3, 2016
With the arrival of summer vacation, the girls begin training at the beach in preparation for Love Live while also helping out at a run-down snack bar. Meanwhile, Chika overhears that Riko has been invited to a piano recital that takes place on the same day as the Love Live preliminaries. Although Riko tells her that she plans to do Love Live, Chika remains worried about it. After hearing Riko's piano playing for herself, Chika asks Riko to go to the recital, feeling she should also do what she wants to.
11
"Aye-aye, My Friend"
(

友情ヨーソロー

"Yuujou Yousoro"

)
September 10, 2016
After Riko heads off for Tokyo for her recital, the others ask You to take her place alongside Chika in their dance routine. As the two practice together, Mari notices that You has been feeling jealous of Chika becoming close with Riko, encouraging her to be honest with Chika. Later, after You receives a call from Riko telling her how much Chika cares for her, Chika comes over, telling You to dance her own way rather than try to imitate Riko. The next day, Riko performs her recital while Aqours perform at the preliminaries, both managing to perform well.
12
"It's Time to Fly"
(

はばたきのとき

"Habataki no Toki"

)
September 17, 2016
Aqours manages to pass the Love Live qualifiers while Riko wins a trophy in her recital. Despite the popularity of the group, there are no additions to the applicants for the school. Feeling that there is still a large difference between them and μ's, the girls return to Tokyo to meet up with Riko and find out what made μ's so great. There, they meet up with Sarah and Leah, who have also qualified for Love Live and state their determination to win. Afterwards, the girls visit Otonokizaka High School, where one of the students tells them that μ's chose to leave no records of their activities at the school. Thinking about these words, Chika comes to realize that μ's was great not because they aimed to be the best, but because they acted freely, feeling that Aqours should aim to do the same instead of just chasing after them.
13
"Sunshine!!"
(

サンシャイン!!

"Sanshain!!"

)
September 24, 2016
As the girls keep practicing for the regional qualifiers, some of Chika's friends, having seen everyone's efforts, decide they want to become idols and help the school. Despite almost the entire school showing up to support, Riko reveals that the rules prevent them from joining the group on stage. As Aqours take the stage, they put on a pre-show performance about how they came to be formed and what makes their town so great before performing their song, during which Chika calls down everyone to join in.
Ad blocker interference detected!
Wikia is a free-to-use site that makes money from advertising. We have a modified experience for viewers using ad blockers

Wikia is not accessible if you've made further modifications. Remove the custom ad blocker rule(s) and the page will load as expected.