Home
Talk

0
204pages on
this wiki
Welcome
Announcements
Love Live! 3rd Unit Single Release has been decided!
August 28, 2014: Love Live! Staff tweeted the announcement of the Love Live! 3rd unit singles.
They will also be collaboration singles with "Love Live! School Idol Festival" this time.
The release dates for each unit are the following:
November 12, 2014 - Printemps (Release date changed from October 29 → November 12)
November 26, 2014 - lily white
December 24, 2014 - BiBi
For more information, please check this thread.
Banzai!
⋆Ragnarok6354⋆ 13:11, August 28, 2014 (UTC)
---
Love Live! School Idol Festival (JP Version) News
October 20, 2014

From October 21 until the end of the event, there will be special premium recruitment boxes:

Group #1: October 21 to 23 - PICK-UP Gacha

October 21 - Initial URs, Initial SRs, Animal SRs, Job SRs
October 22 - August to November SRs/URs, event SRs from September to November
October 23 - December to March Ver. SRs/URs, event SRs from December to March

Group #2: October 24 to 27 - Third Years only (Eli, Nico, Nozomi)
Group #3: October 28 until the end of the event - lily white only (Umi, Rin, Nozomi)

The theme of each group will be a secret until the campaign is active.
Doing a 10+1 draw (50 loveca stones) will guarantee you at least an SR or higher.
October 15, 2014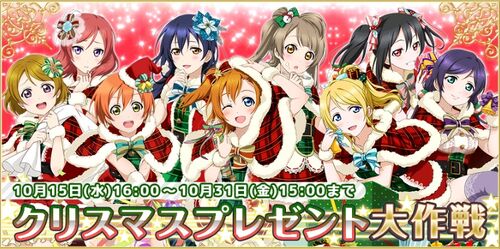 Celebrating the 5 Million Users Milestone, "Operation: Christmas Present" poll will be held!

『For this year's Christmas, from µ's members, 「To whom」 do you want to give 「What」 present?』

The top ranked character and present will become a special UR card obtained as a login bonus.
Voting period: October 15 at 4PM to October 31 at 3PM JST.
Results will be revealed on November.
EVENT CORNER
October 19, 2014

The 『凛と一夜の間違い。』 event will begin on October 20 at 4 PM and run until October 31 at 3 PM JST; there will be maintenance for one hour before and after the event.
This is the seventh of the School idol diary collaboration events - as you gain event points, you will unlock a popular chapter from the series (this time featuring Rin)

Collect bells from performing lives and use them to play the new event stage, Koi No Shigunaru Rin Rin Rin!.
Rewards include SR Rin (Cat Girl ver.), R Miyama Satoko.
The following campaigns will also be active:

From October 27 until the end of the event, a 4x version of the event song as well as two EX versions (regular + randomized) will be available to play.
From October 28 until the end of the event, certain stages (changes daily) will give extra gold rewards (1.5x for NORMAL, 2x for HARD).
---
Love Live! School Idol Festival (EN Version) News
October 24, 2014

New Club Members

The following new Club Members were added to Honor Student Scouting:

Nozomi Toujou (UR)
Maki Nishikino (SR)
Nico Yazawa (SR)

Scout 11 Times for SR and above! (until October 31, 2014)

Higher chances at new Members♪ (until October 31, 2014)

New Regular Students have also been added.
October 21, 2014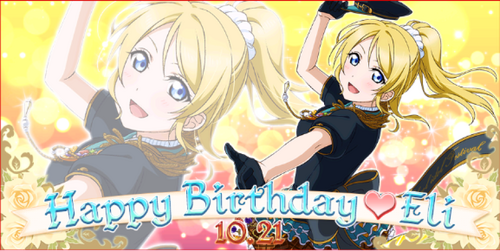 October 21 is Ayase Eli's birthday.

To celebrate Eli's birthday, we are giving away 5 Love Gems as a Login Bonus today.
EVENT CORNER
October 19, 2014

A new event, "I'm Gonna Get You!", will run from 9AM on October 20 to 8AM on October 31 UTC.
Rewards include SR Eli Ayase, R Alpaca, R Satoko Miyama, and R Kyoko Sasahara.
Event Details:

During the event, special "Book" rhythm icons will appear in all Live Shows.

Touch these icons to get Books and Event Points.
Use Moons to play the B-Side "Cutie Panther", where you can get more than the normal amount of Event Points.

The amount of Event Points you can get in "Cutie Panther" depends on your Score and Combo Rank.

We plan to add "Cutie Panther" as a Hit song sometime after the event has finished.
You will not receive Event Points for Live Shows completed after 8AM on October 31 UTC, even if you start before this time.
We will also be running the following specials from midnight on October 27 UTC until the end of the event.

x4 Event Songs - Four times the amount of Charms are required to play these songs, but you will also receive four time the Event Pts.

Live rewards such as EXP, G, number of Members, and Member levels are the same as for regular event songs.

Expert Event Song - A higher difficulty version of the event song is available under B-Sides, Expert.
Playing either versions will not count towards the Event Song Ranking.
Certain Normal and above songs give out more Gold than usual: 150% from Normal, 200% from Hard.

Eligible songs change every day.
Featured Article
Storm in Lover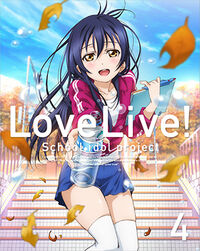 Storm in Lover is a single sung by Sonoda Umi and Ayase Eli. The song is featured in Love Live! TV Anime 2 Blu-ray 4 which was released on September 24, 2014.




Listen to Storm in Lover:

Featured Video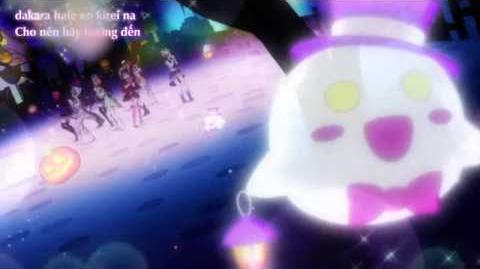 Love Live! School Idol Project Second Season
Dancing stars on me!
Social Media
Affiliates
Latest Episode
Latest Preview
Poll
Poll Edition: June 30, 2014 -
Will you still continue to support µ's from here on out?
Poll Edition: October 22, 2014 - October 31, 2014

Which of the following songs appeal the most to you?
The older polls can be found here.
Main Page ver 3.1.1, last edit by Ethrundr on 11:53, August 19, 2013 (UTC).