Welcome
Announcements
Love Live! 6th Anniversary Giveaway
For Love Live!'s upcoming 6th anniversary, the Love Live! Wikia sets out on a mission: To find the greatest Love Live! fans out there!
And to do so, we have created a brutally tough 100-question quiz! We will test you everything: Obscure details about the characters. Seiyuu facts. Love Live! project history. Even some merchandising, collaborations and tie-ins are included.
For more details and the quiz link, check out the thread here.
LL Wikia Pilgrimage map
Out of interest, we began constructing our own Google Map listing out all the sites of interest in the Love Live! and Love Live! Sunshine!! projects. Unfortunately it's still in the process of being built; we've covered all of LL!SS!!'s locations but for Love Live!, it's better to refer to this JP map instead. Even if you're not heading there, it's pretty neat to surf the streets with Google Earth, so give it a whirl!
SIF Updates
Global News
---
Love Live! School idol festival (JP Version) News
June 23, 2016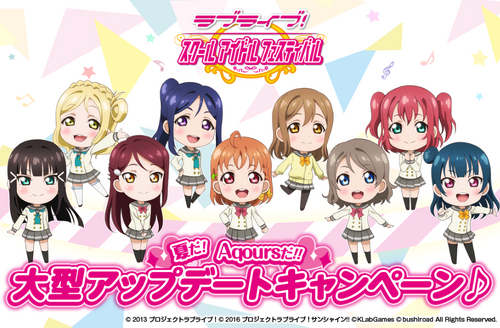 「It's Summer! It's Aqours!! Large Update Campaign♪」

A campaign where presents will be given to players based on how many friends the official LINE account of SIF will be having has started♪
Presents will be given once the campaign period ends.

「Campaign Period」

June 23, 2016, 12:00 PM ~ July 4, 11:59 PM JST

「How to Participate」

Tap/Click 「」.
On the LINE app, tap on「Add」.
※Or you can search the account「@lovelive_SIF」then tap「Add」.
Registration complete! Please wait for notifications after the update.
※In order to add the account as a LINE friend, please use a smartphone in completing the steps.

「Presents」

100,000 Friends - Loveca Stone x1, SIF-themed Wallpaper
200,000 Friends - Loveca Stone x1, R Alpaca x2
300,000 Friends - Loveca Stone x1, R Alpaca x3
400,000 Friends - Loveca Stone x2
500,000 Friends - Scouting Ticket x1
※The SIF-themed Wallpaper will be delivered via LINE after the update.
※All other presents are planned to be delivered on mid-July.
June 22, 2016

Before the「It's Summer! It's Aqours!! Large Update」, new features will be added across two weeks!
There will be new features for「Special Training」and「School Idol Skills」, and an all-new「Reward BOX」♪

Special Practice (Awakening/Idolizing)

Seals can now be used to awaken/idolize a card. The slots you can set for School Idol Skills will also be increased.
※In line with this, practicing or selling awakened/idolized cards will now produce only 1 seal instead of 2.

Special Practiced Members

After the awakening/idolizing, their School Idol Skill slots will be increased by 1.
※After the update, all awakened/idolized members' skill slots will be increased by 1.

Awakening/Idolizing using Seals

Awakening/Idolizing will require a fixed number of seals. The number of seals required will base on rarity.

※This is a preview of the number of seals required in awakening a UR Kotori.

Awakening/Idolizing using Members

Already awakened members may still be awakened in order to increase skill slots until maximum number of slots is reached.
Awakening using the same member will add 2 slots, using seals will add 1 slot.

※SSR will be added on July 5's update.

School Idol Skill
~Let's power up our favorite member!~

There are different types of skills. Skills may also be obtained from「Reward BOX」.
Each of skills will be having costs which range from 1~4. Stronger skills require higher cost.

Reward BOX
~Score high, get a reward!~

A new feature,「Reward BOX」will be implemented.
Playing and clearing through lives will fill up a gauge. Once the gauge is full, you get new skills and/or new items.
June 15, 2016

Chapters 43-3 and 43-4 have been added to the main story.
New Idol Costume themed cards have been added to premium recruitment.

There is a higher chance of obtaining these cards until June 20 (base SR/UR rate does not change).

The event SR Honoka has also been added to premium recruitment (low chance to obtain).
Until June 20, doing a 10+1 draw (50 loveca stones) will guarantee you at least an SR or higher.
New N cards have also been added to regular recruitment.
EVENT CORNER
June 19, 2016

The Challenge Festival Round 3 event will begin on June 20 at 4 PM and run until June 30 at 3 PM JST; there will be maintenance for one hour before and after the event

Rewards include SR Toujou Nozomi (Rainy Season), SR Koizumi Hanayo (Rainy Season), R Sasahara Kyouko
Event rules are as follows:
Event Mechanics
Select the course you wish to play (Beginner, Normal, Hard, Extreme). Each course contains 5 rounds, with one song per round. As you advance through each round, it will be more likely that the next song you get is harder than the previous.

In the event that you fail a song in a round, your event points, G, and EXP will be halved (unless you fail on the first song, in which case you get nothing). You will also lose all Gold/Silver/Bronze rewards that you have collected.
Beginning with the second round, there will be a "Stop and Receive Rewards" option, if you feel that the song is too difficult for you. The festival will end and you will receive all of the rewards that you have collected.
You are allowed to pause between songs. The current status will be saved.

The song for each round is selected from a pool of 8 songs. It is possible for the same song to appear twice in the same course.

The songs for each course will have the following difficulties:

Beginner: 1★ - 6★ (Easy and Normal)
Normal: 4★ - 8★ (Normal and Hard)
Hard: 6★ - 10★ (Hard and Expert)
Extreme: 9★ - 11★ (Random and Daily Expert)

After the round song is displayed, there is a chance that bonuses will activate. Up to 3 bonuses can be active at a time, and certain combinations will trigger extra special bonuses.

The effect of the bonuses is limited to that round only.
The further you progress in a course, the more likely that a bonus will activate.

Select the unit that you wish to use for the song. The unit may be changed for each round.
You can use G to "arrange" the songs, much like in Medley Festival, to provide special effects. Note that the arrangements will reset after each round.
Once you clear the round, you will collect event points, G, EXP, and Gold/Silver/Bronze rewards. The further you get in a course, the more event points, G, and EXP you will collect, and the higher the likelihood of Gold and Silver rewards appearing.

You will only receive everything that you have collected after you clear the fifth round or once you select the "Stop and Receive Rewards" option.
---
Love Live! School idol festival (EN Version) News
June 13, 2016

Chapters 33-3 and 33-4 have been added to the main story.
New Club Members

UR Umi and UR Nozomi in Honor Student Scouting!
Scout 11 Times for SR and above! (until June 17, 2016)

Higher chances at new Members♪ (until June 17, 2016)

Event Nico SR also now available in Honor Student Scouting with lower chances.
New N Club Members added to Regular Student Scouting!
May 16, 2016
The app has been updated on Monday, May 16 UTC. The details of the update are as follows:

Goals

The Goals feature has been updated by merging the old Goals and Album Rewards. As with the previous version, the new Goals are completed automatically by meeting the requirements. In addition to regular Goals, there are Goals that trigger other Goals, and Goals that have time limits. Goals and Album Rewards you have already completed and the rewards you have received can be checked by going to the "Cleared" page in the Goals section. The progress you have made with the previous Goals and Album Rewards will be automatically transferred to the new Goals. When a song is unlocked by completing a Goal, all three difficulties, Easy, Normal, and Hard, of that song are unlocked at the same time.

Notes:

Goal requirements starts to count from the time when the Goals become available.
Some Hit Songs can be unlocked by completing several different Goals. If you unlock a Hit Song by completing a Goal, the Hit Song that was listed on the other Goals will be replaced with another Hit Song.
Most rewards, apart from the Titles and Wallpapers, are sent to your Present Box.
If a Goal requirement specifies a certain team, you must include all members of that unit.

Titles

Titles can be earned by completing certain Goals. You can select a Title from your collection and set it to your Profile. To view and set a Title, tap the Title you currently have on the top left corner of the Home screen, or go to Other, then Titles. "Otonokizaka" is set as a default Title.

Wallpapers

Wallpapers can be earned by completing certain Goals. You can select a wallpaper from you collection and set it as the background of the Home screen. To view and set your Wallpaper, go to Other, then Wallpapers. You will automatically receive some Wallpapers if you have already achieved the requirements before the update.

Stickers

You will now receive Stickers when you Remove or Practice with an R or above member: one Sticker for non-Idolized members, and two Stickers for Idolized members. There are three types of Stickers: Normal Stickers for R, Super Stickers for SR, and Ultra Stickers for UR. These Stickers can be exchanged for special members and items at the Sticker Shop.

Notes:

Special Practice does not give out Stickers.
The following special members will not give out Stickers:

Serial Code members
Sticker Shop members
Login Bonus members
Teachers, Alapacas, and Supporting members

Sticker Shop

Here you can exchange Stickers for special members and items, including some Serial Code members, UR members currently not in the Honor Student Scouting due to monthly lineup revisions, and Scouting Coupons. Some members and items in the Sticker Shop may have restrictions on how many times you can exchange them or have a specific availability period.

Notes:

N rarity members for not give out Stickers.
Available members and items may change periodically.
Members who are Removed or used as a Practice Partner will disappear and can't be returned.
If you have removed members or practiced with eligible members between 15 February 2016 and this update, we have sent you the Stickers you would have received with this change.

Home screen UI updates

The overall look has changed, but one major change is the "What's New" laptop icon. Tap the icon to access the latest notifications and updates.
You can also see your Title in the top left corner of the screen.

LP recovery functionality change

It is now possible to recover LP beyond your current max LP when you Rank Up or use Love Gems.

Other changes

Live Shows can be played even if players have the maximum number of Club Members.
Sent messages history can now be viewed.
Data for stories and Live songs can now be batch downloaded.
Other small fixes and adjustments.
EVENT CORNER
June 16, 2016
A new event, "Nineteenth Round SCORE MATCH", will run from 9:00 am on June 17 to 8:00 am on June 27 UTC.

Rewards include SR Hoshizora Rin, SR Ayase Eli, R Kyouko Sasahara, and R Nanako Yamauchi.
Choose a difficulty level, and you will be automatically matched with up to three other players. A random Live Show will be selected, and all players will start the Live Show at the same time. At the end of the Live Show, you will be ranked according to your score, and you will receive Event Points based on the difficulty level and your rank.
You can easily communicate with other players by using set phrases while you are being matched, and when the results are displayed.
Featured Article
Love Live! History
Love Live! History is a page which contains all the information on the history of the Love Live! project that is outside of the anime and discography, mostly gathered from magazines and live events.

What better way is there to celebrate the 6th anniversary than taking a trip through time with us here?

(read more...)



Featured Video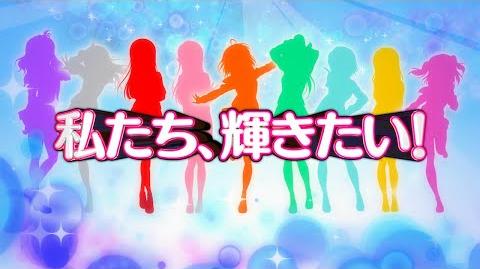 Love Live! Sunshine!!
TV Anime PV

It's summer soon!
Social Media
Affiliates
Poll
Poll Edition: June 3, 2016 - June 30, 2016
The first single of Aqours' sub-units are finally out! Which sub-unit's single do you like most?
No sub-poll for this month!
The older polls can be found here.
Main Page ver 3.1.1, last edit by Ethrundr on 11:53, August 19, 2013 (UTC).