Welcome
Announcements
April Update
Love Live! Wikia's newly formed sub-team begins releases
Racing against the clock before the Final Live, we released subtitles for not one but two of the past live concerts:
The subs are available on the pages, so do watch them if you haven't yet! To pre-empt any questions, we do intend to sub the Final Live's BD when it comes out, but can't say for sure as to our schedules until that time. Other concert's subs may also come in the next few months.
Final LoveLive! and Birthday Giveaways
Umi's birthday was over in March, but you can see all the lovely submissions for our ocean maiden here. Meanwhile, our Maki Birthday Giveaway contest is now open!
We also held a guessing quiz based giveaway for the Final LoveLive!, and you can view the results here!
Pre-Final Live! Comments
In the days leading up to the Final Live, there was no shortage of interviews and comments being released!
µ's Final LoveLive! ~µ'sic Forever♪♪♪♪♪♪♪♪♪~
The Final Live took place on 31st March and 1st April. Admin Lucia was at a live-viewing and has written down reflections on Day 1 and Day 2 here.
With this being the final solo concert µ's will hold in the foreseeable future, this is the end of a very, very long dream that at the same time, had been way too short. It's been an honor to have been here to witness this end along with everyone else in the fandom.
Aqours Subunit Names
The Aqours subunit names have been decided to be CYaRon!, AZALEA and Guilty Kiss! Were they what you voted for? It seemed like only Guilty Kiss's group came anywhere close to almost having a different name!
Koi ni Naritai AQUARIUM
The new single's cover has only just been released, and the single will be released on April 27! However, we will get to see snippets of the PV as early as April 9 9PM JST, so don't miss the Aqours live-stream with their 3rd years here!
Read the complete April Update here!
New translations of scans are up for Tsushima Yoshiko, Kunikida Hanamaru, and Kurosawa Ruby! Messages from our beloved µ's voice actresses are also translated! You can check them on the voice actresses' pages, or alternatively check the LL! Wikia Twitter account's posts on the following links: Post 1, Post 2, Post 3, Post 4.
That's all we have for now, see you next month!
SIF Updates
Global News
---
Love Live! School idol festival (JP Version) News
April 30, 2016

Chapters 42-1 and 42-2 have been added to the main story.
New Dancer themed cards have been added to premium recruitment.

There is a higher chance of obtaining these cards until May 5 (base SR/UR rate does not change).

The event SR Hanayo has also been added to premium recruitment (low chance to obtain).
Until May 5, doing a 10+1 draw (50 loveca stones) will guarantee you at least an SR or higher.
New N cards have also been added to regular recruitment.
April 19, 2016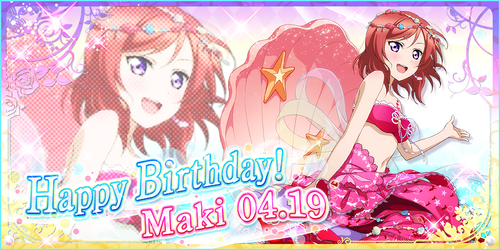 April 19 is Nishikino Maki's birthday.

To celebrate Maki's birthday, 5 Loveca Stones will be given as a Login Bonus today.
Today, µ's Members' 『Happy Birthday, Maki-chan Special Voice』can be heard from the menu.
EVENT CORNER
There are currently no events ongoing.
---
Love Live! School idol festival (EN Version) News
April 28, 2016

Chapters 32-1 and 32-2 have been added to the main story.
New Club Members

UR Honoka in Honor Student Scouting!
Scout 11 Times for SR and above! (until May 4, 2016)

Higher chances at new Members♪ (until May 4, 2016)

Event Kotori SR also now available in Honor Student Scouting with lower chances.
New N Club Members added to Regular Student Scouting!
April 25, 2015
Love Live! School Idol Festival has now over 4 million players.

To celebrate this milestone, starting from April 26 (UTC), one Love Gem a day will be given away for seven days!
EVENT CORNER
There are currently no events ongoing.
Featured Article
Koi ni Naritai AQUARIUM
Koi ni Naritai AQUARIUM (

恋になりたいAQUARIUM

lit. I Want To Fall In Love AQUARIUM

?

) is Aqours' second single. It was released on April 27th, 2016 on both a CD and Blu-ray disc or DVD.



Featured Video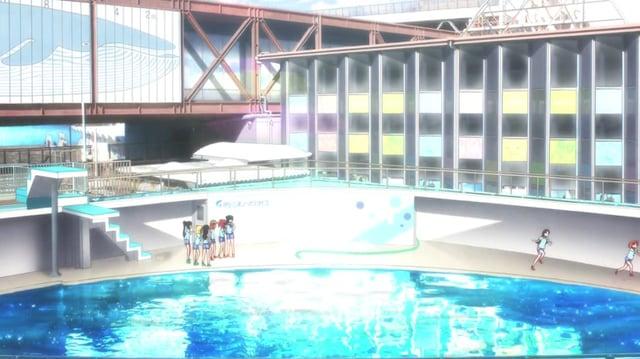 Love Live! Sunshine!!
Koi ni Naritai AQUARIUM
Social Media
Affiliates
Poll
Poll Edition: April 8, 2016 - April 30, 2016

The Love Live! Project has successfully completed another milestone, possibly its last. At this momentous occasion, we have an important question for you all. WHO IS BEST GIRL?
No sub-poll for this month!
The older polls can be found here.
Main Page ver 3.1.1, last edit by Ethrundr on 11:53, August 19, 2013 (UTC).